November Newsletter-Happy Thanksgiving
Posted On November 26, 2019
It's that time of year when family and friends gather together for the season of Thanksgiving. All of us at the DW Slater Company want to take some time to let you know that we are very thankful for you! Our clients, subscribers, and friends! We are thankful that you choose us for your real estate appraisal services, market updates, questions or concerns. As you gather together in groups big or small, may your time together be special and memorable. If you are cooking for Thanksgiving, scroll to the bottom of the newsletter for a special recipe from our family to yours!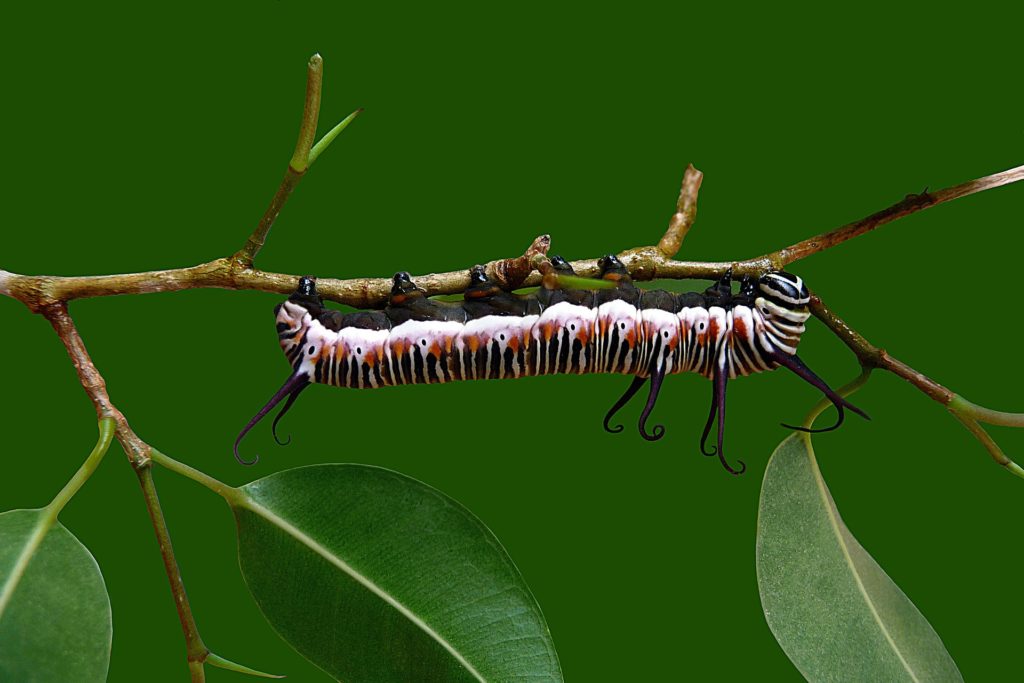 Let's talk about real estate! The markets in North Texas are still up. Although we have been talking about the slowing and certain markets are beginning to flatten, overall markets are still rising. The Texas economy is still very strong. According to the Texas A&M Real Estate Center: The Texas economy gained 297,100 nonagricultural jobs from October 2018 to October 2019, an annual growth rate of 2.4 percent, higher than the nation's employment growth rate of 1.4 percent. The nongovernment sector added 284,600 jobs, an annual growth rate of 2.7 percent, also more than the nation's employment growth rate of 1.5 percent in the private sector . Jobs and people continue to migrate to the DFW area. With its recent purchase of Ameritrade, Charles Schwab will be moving its headquarters to Westlake in Tarrant County. To make room for all those relocating to North Texas, PMB Capital Investments with the purchase of 3,400 acres, just announced plans for a residential development of 10,000 homes in Wise County called Rolling V Ranch. This will be one of the largest residential master-planned developments in North Texas.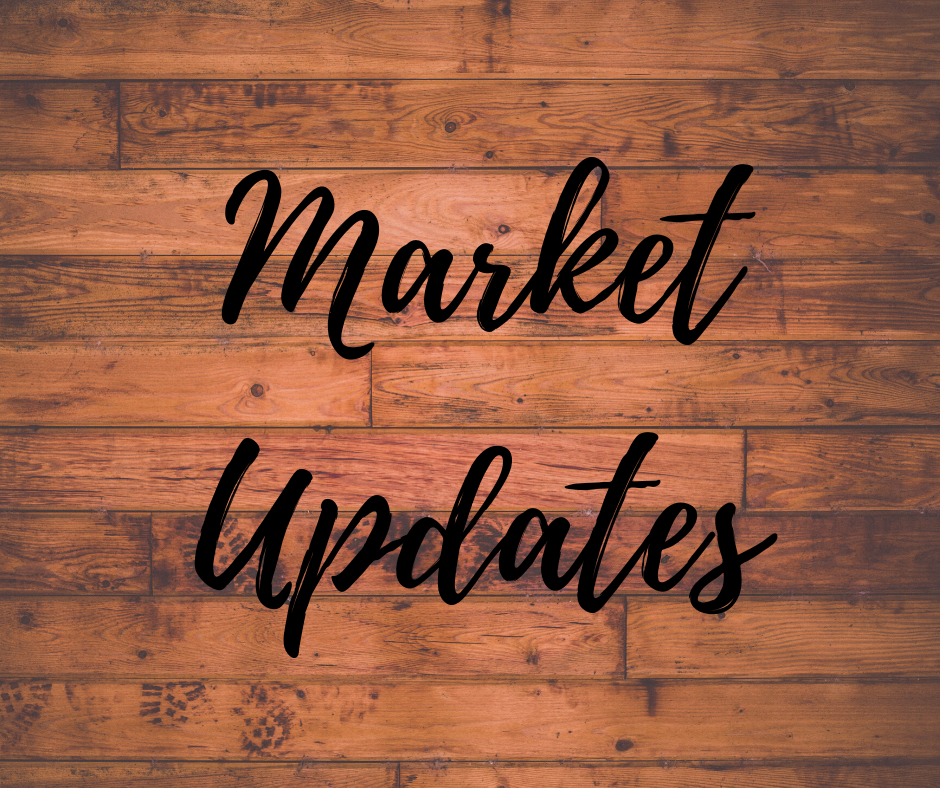 Median Sales Prices are still slightly up in our main four counties YoY. Inventory & marketing times are up and volume is either down or flat moving to a more balanced market. As noted before, we are still inching up but at a slower pace. Here are the numbers:
OCTOBER 2019
OCTOBER 2019
OCTOBER 2019
Collin County
3.5 | +16.7%
OCTOBER 2019
We will continue to watch the real estate markets. Watch for our monthly update in next month's newsletter.
---
---
Congratulations to our own, Shannon Slater and to realtor Whitney Delcourt as they were chosen as Appraiser of the Month and Realtor of the Month from Consumer Home Value. If you have't checked out Consumer Home Value's website, please do. They provide a wealth of information to help consumers navitgate the home buying, selling, refinancing or remodeling process. We apprecited the kind words about our company and services from our clients and collegues.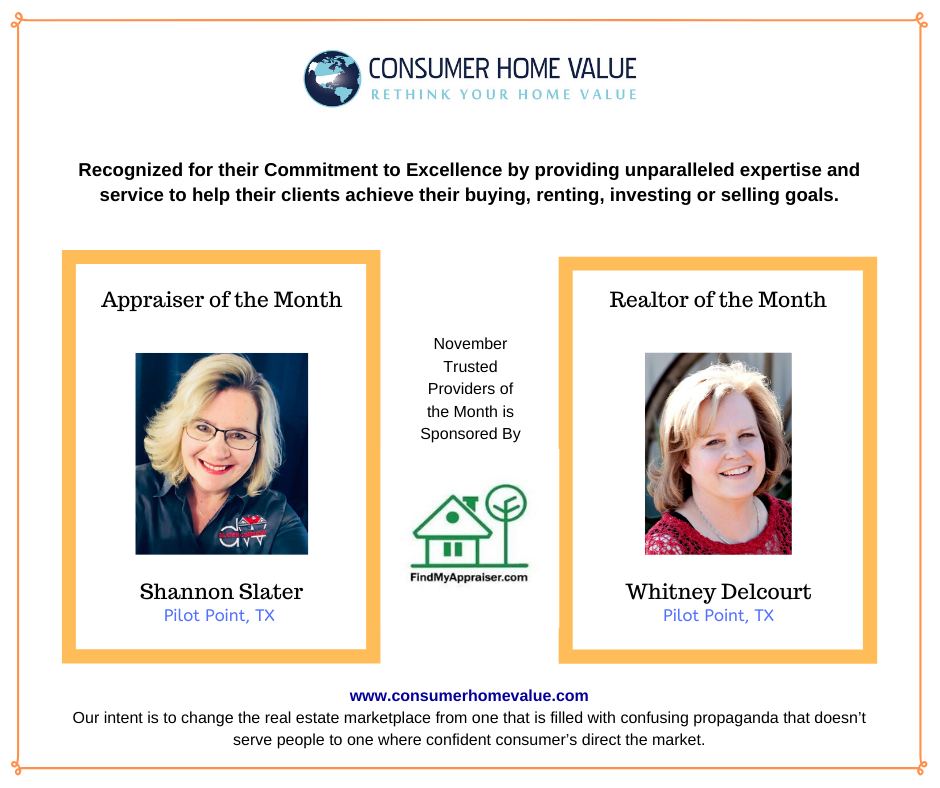 ---
---
---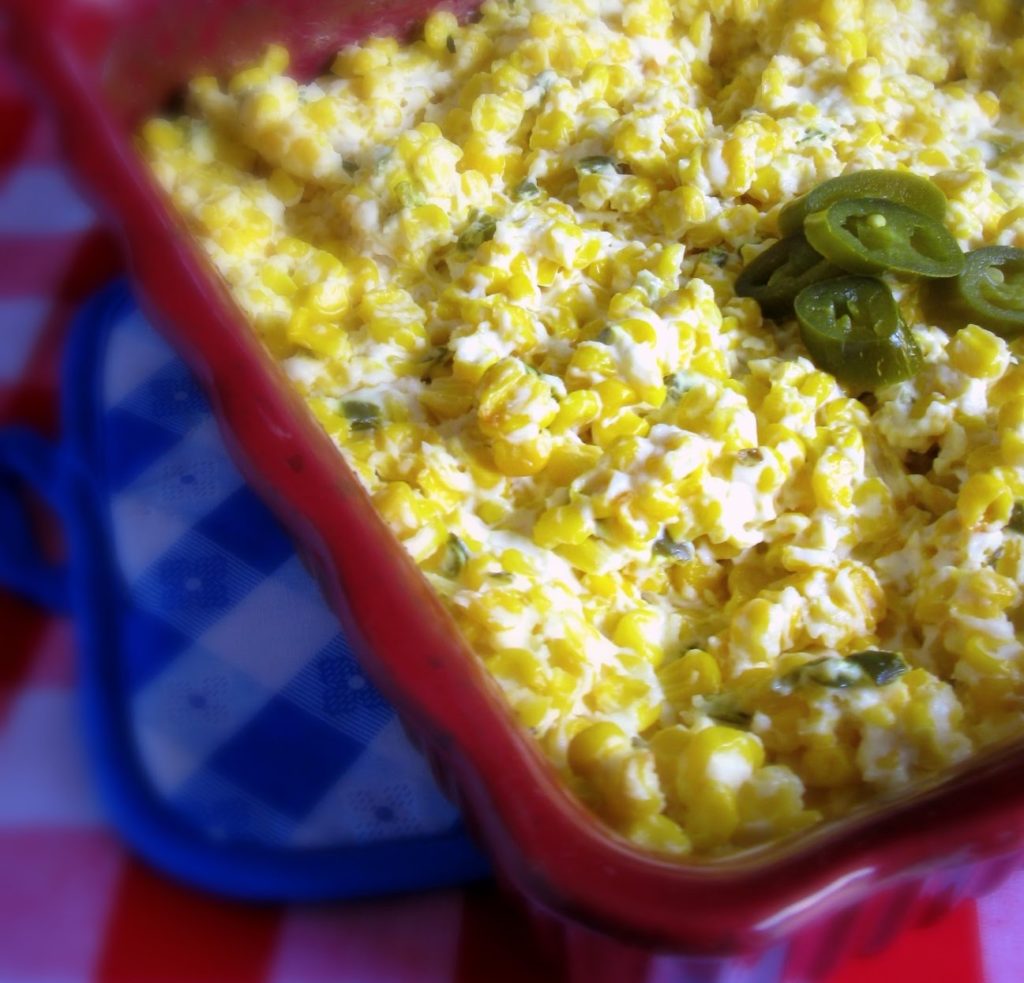 Nana's Jalepeno Corn Casserole
Ingredients: 
Two 12 oz cans of whole kernel corn (mostly drained)
One 8 oz pkg of cream cheese
One stick of butter
One & 1/2 whole jalepeno diced ( remove seeds if mild is desired)
Salt & Pepper to taste 
Melt the cheese & butter together
Combine all ingredients in a 9X13 baking pan
Bake at 350 degrees until bubbly  (approximately 10-20 minutes)
This recipe is written exactly as it was given.  It will be on our table for Thanksgiving.    Enjoy!
About The Author
Shannon Slater
Shannon is a Certified Residential Real Estate Appraiser and serves as the Vice President of the DW Slater Company. She joined David at the DW Slater Company in 2006. Shannon graduated Cum Laude from the University of North Texas with a BA degree. Prior to joining the DW Slater Company, she was an Elementary School Teacher for the Pilot Point Independent School District. Shannon is an FHA Certified Appraiser. Shannon is a designated member of the National Association of Appraisers and a member of the Association of Texas Appraisers. In her free time, Shannon enjoys spending time with her family, singing in a local church choir, and tandem cycling with her husband.