How do appraisers adjust for time in rapidly increasing markets?
Posted On June 2, 2021
If you are like me, you are probably tired of hearing the word "unprecedented". How many times have we said it or read it this past year? What is another word we can use? Remarkable? Extraordinary? Phenomenal? However we describe it, we are currently experiencing rapidly appreciating real estate markets. Not just in our local North Texas markets but in many places nationwide. Record low supply of real estate coupled with high demand is driving up the prices. You hear about bidding wars and how difficult it is to buy a home in this market. Mortgage interest rates remain at record lows, builders are struggling to keep up as the cost of construction is at record highs and the demand for work from home space has increased as a result of the pandemic.
What are appraisers to do?
Appraisers are working harder than ever. The demand for appraisal services is great and in the current market conditions, it can be difficult. Appraisers use closed comparable sales to derive value from the marketplace, but what if those sales closed 60 days ago and the market has already increased since that time? Appraisers can determine a market condition adjustment based on time (also known as a time adjustment). If the most similar sale sold 4 months ago and the market is either increasing or decreasing then an adjustment can be determined to bring that sale to current market conditions.
How do appraisers determine the market conditions adjustment?
The appraiser can look at sales within the market and analyze sale price trends. The market condition adjustment should come from competing sales and not just all sales within the market. For our appraisals, we do look at the overall trends for all sales within the market but use competing sales to determine the amount of adjustment to make. The adjustment can be made as a percentage. Some appraisers make an adjustment based on the market change per day. We typically determine sale trends for the past 12 months and then divide that into months. A 20% price increase would adjust the sales price at 1.6% per month. Each comparable would be adjusted a percentage based on the time of the contract.
It is worth noting that not every market segment is experiencing rapid price appreciation. Appraisers will analyze the neighborhood and market for similar competing sales of the property they are appraising. Don't let the headlines fool you. Just because you read that home sales are up 20% from last year,that does not necessarily mean that your home is now worth 20% more.
Tools and Resources for Appraisers
There are many tools out there for appraisers to use. Here are a few :
This is a data import tool but also includes market analysis tools as well as cost data tools for appraisers. Spark is not available in all areas. Here is a video from Spark discussing how appraisers can determine market condition adjustments in Spark. Don't worry if it is not in your area, because the video also shows how to calculate the adjustment without Spark using excel.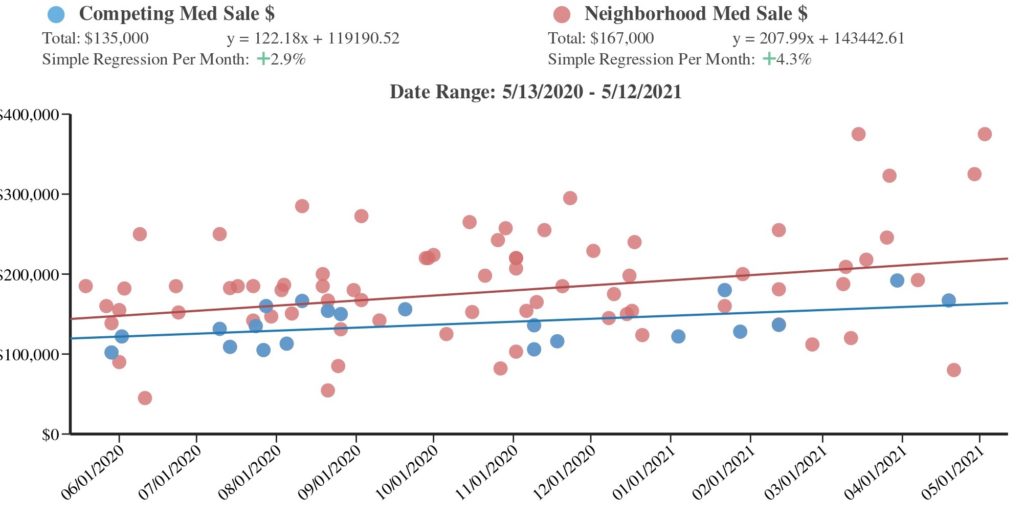 George Dell has a free blog and newsletter. He also teaches a Stats, Graphs, and Data Science class for appraisers. He is often a featured writer for Appraisal Today Because of these current market conditions, he is offering a free class for appraisers on time adjustments. You can sign up at this link: Free 2 Hour Webinar. The seating is limited to 500 and it fills up so I wouldn't hesitate to sign up.
Appraiser eLearning offers many educational courses for appraisers. They have just released a new webinar for appraisers in helping to determine market time adjustments. This is not a free webinar but is only $49. The instructors are Tim Anderson and Scott Cullen. Tim is a Certified USPAP instructor and appraiser advocate. Scott Cullen has created the Solomon Calculators tools for appraisers. The webinar is on June 8th. You can register at this link: USPAP Compliant Adjustment Series, Course #1- Market Time Adjustments
These are just a few resources that I am aware of to help appraisers determine the market condition adjustments. This is not an exhaustive list. Appraisers, I would love to know how you determine market adjustments. What other tools or resources do know? Please comment below so we can help each other provide credible assignment results for our clients.