February Newsletter- Off the Blocks!
Posted On February 24, 2020
"February is merely as long as is needed to pass the time until March."
–  Dr. J. R. Stockton
I love a track meet and it's especially exciting when runners line up on the blocks and get prepared to take off.   Some hop up and down, some stretch, some have an intent gaze on their face and some just crouch down ready to go.  Once the starting gun sounds, they take off! Whoosh!
The housing market is off to a quick start!  January numbers show the spring market already in full swing.  All four counties are showing price increases, inventory reductions, and volume increases.   Where we had been seeing softening and flattening, now the market seems to have picked up the pace.  Low mortgage rates and continued demand for homes in our area have been factors.   The city of Irving in Dallas County has announced that Amazon is bringing 1,000 jobs and construction has already begun on a 200,000 sq ft Amazon Warehouse Distribution Center in the city of Forney.   Job growth continues to power population growth and demand for housing.  
*Charts and Numbers to follow
Did you Know? 
Since this is a leap year and we have an extra day in February, we thought we would share some leap year trivia.  Did you know that Anthony, TX is considered the Leap Year Captial of the World?  The entire town throws a birthday party for those born in Leap Year.  Also, there is a French newspaper that is only published once every leap year on leap day.   If you are born on leap day you are very special.
Also, if you follow us on social media you might have seen this interesting fun fact: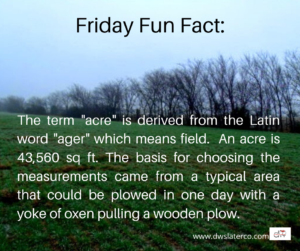 We were honored to have one of our posts featured in Appraisal Today.  If you don't already subscribe to this free newsletter, we highly recommend it as well as the monthly paid version which is full of great content for real estate appraisers. 
Here is a look at the numbers for January: 
JANUARY 2020
Denton County
$314,750 | +5.1%
Collin County
$332,100 | +5.8%
Dallas County
$239,700 | +12.0%
Tarrant County
$240,000 | +9.1%
JANUARY 2020
Denton County
2.2 | -24.1%
Collin County
2.3 | -23.3%
Dallas County
2.5 | -13.8%
Tarrant County
1.8 | -14.3%
JANUARY 2020
Denton County
884 | +26.6%
Collin County
923 | +16.7%
Dallas County
1,507 | +15.6%
Tarrant County
1,581 | +9.9%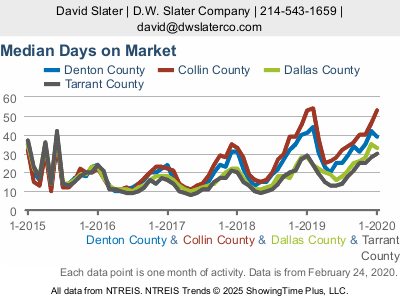 JANUARY 2020
Denton County
39 | -4.9%
Collin County
53 | 0.0%
Dallas County
33 | +17.9%
Tarrant County
30 | +3.4%
We will continue to watch the DFW housing market as concerns over
the Coronavirus might begin to impact real estate in the US.  Mortgage rates continue
 to remain low and the demand is still very high for DFW.  Although we are off to a quick start and are poised to have a strong season,  unknown factors can always slow things down. 
Don't miss next month's newsletter by signing up here:
About The Author
Shannon Slater
Shannon is a Certified Residential Real Estate Appraiser and serves as the Vice President of the DW Slater Company. She joined David at the DW Slater Company in 2006. Shannon graduated Cum Laude from the University of North Texas with a BA degree. Prior to joining the DW Slater Company, she was an Elementary School Teacher for the Pilot Point Independent School District. Shannon is an FHA Certified Appraiser. Shannon is a designated member of the National Association of Appraisers and a member of the Association of Texas Appraisers. In her free time, Shannon enjoys spending time with her family, singing in a local church choir, and tandem cycling with her husband.