Market Still Holding On as Low Inventory Persists- February Newsletter
Posted On February 23, 2023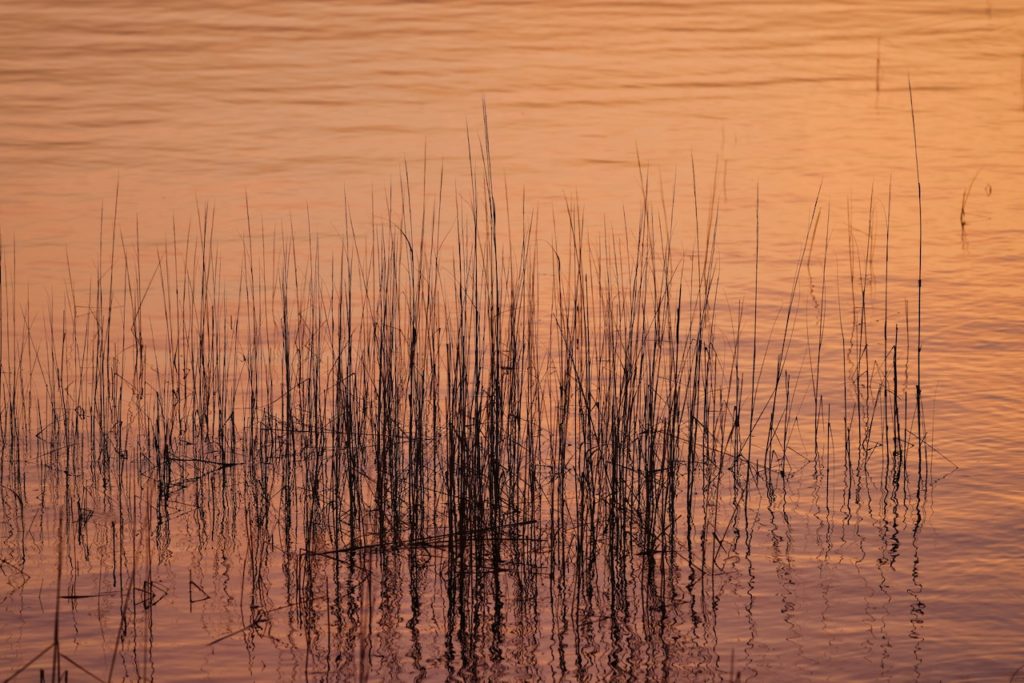 It's hard to believe that it has been 2 years since we experienced the great Texas Winter Storm when the Texas power grid failed and we went several days without power in our Texas homes that are not built to keep heat. As much as I love the beauty of snow and the colder temps we occasionally get in North Texas, I still worry about the grid. I called it PTSD from that storm. So far, so good with the grid. Let's keep it up. We are now entering the time of year when one day you need shorts and the next day you have to bring out your jacket. Gotta love North Texas weather!
So what's happening in the housing markets here? The past six months have been full of very drastic changes as the rapid mortgage rate increases causing many markets to begin to decline. Some may have a bit of PTSD from the 2008 Housing crash but just know that this is a different market with different factors impacting it. Our markets are still strong. If you look at the charts below, you can see how the price declines were more than the typical seasonal trends.
The demand for housing decreased with the higher mortgage rates as it decreased buyer power. So why didn't that lead to a bigger drop in prices? The biggest answer is inventory. The inventory is still at very low levels. So the decrease in demand, really lead to the decrease in the frenzied multiply offer environment we had been in. No longer are homes selling above list price (see Percent of Orignal Price chart below⬇️) In fact they are selling at a more reasonable 5% below list price. There are multiple reasons that inventory is still low but two major reasons, are that building costs and supply chain issues keep new construction from building as much to meet demands and existing homes are not coming on the market. Many homeowners were able to take advantage of the previous record low mortgage interest rates and don't see a need to sell unless life changes necessitate it.
Closely studying our markets is very crucial in understanding current market value for appraisers. Not every market is the same. The charts presented here are just overall trends for all single-family homes in each county. Each specific market is different. We are seeing some areas with much greater declines and some with little to no decline or even price increases. Looking at the more recent sale trends as well as the current pendings and listings will give us the most accurate current market value of that property.
As we enter the spring market, which is typically when things begin to heat up, we will see what happens. Until we have more inventory, prices will hold. There are still enough buyers out there looking to buy what is available. Possible economic impacts on housing would be continued inflation and job losses. Currently, the jobs market is strong but if inflation persists and the economy goes into recession this could change. Mortgage rates are still heading up, which will weaken demand and lessen buying power. In the meantime, the North Texas market is still strong. We are really headed back down into a more normal less frenzied environment. Check out all of the charts below to see how prices have flattened, days on the market have increased, supply is still low and volume is down.
---
Median Sales Price
Months of Supply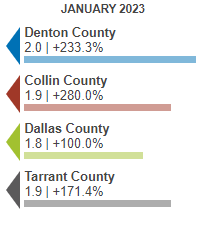 Days on Market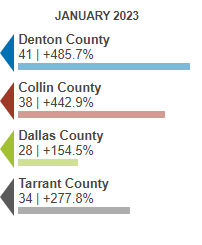 Percent of Original Price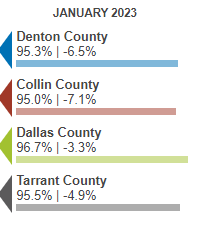 Volume
Showings to Pending
Read 📖
Top 10 Things Appraisers Wish Real Estate Agents Understood– McKissock
Grocery and House Shopping Hasn't Changed Dramatically Since The Eighties– Housing Notes
How to Level Up as an Appraiser-McKissock
8 Ways to Protect Against Appraiser Identity Theft– McKissock
Exploring Alternative Explanations for Appraisal Under-Valuation– AEI
The Real Cause of the Home Value Gap Is the Income Gap– Appraiser Blogs/Mary Cummings
Housing Affordability Hits Record Low but Turning Point Lies Ahead– NAHB
The Scientific Method for Appraisers- Appraisal Buzz/Brent Bowen
Even in a Competitive Market, Here's How Appraisers Can Grow Their Businesses-Appraisal Buzz
Existing Home Sales Lowest in 12 Years, But It Could Be Worse– Mortgage News Daily
The housing market is heating up & still frozen– Sacramento Appraisal Blog
Surviving the Slowdown– Working R.E.
The Hard to Find (Important) Details– The Appraiser Coach
Notice of Data Breach Incident– Appraisal Subcommittee
Measure Credibility? – George Dell
As the Decade Long Home Price Boom Ends and a Major Home Price Correction Begins, the Impact Will Vary as Metro Areas Are Buffeted by a Variety of Headwinds and Tailwinds– AEI
Why You Should Hire Professionals to Measure Your Home– Cleveland Appraisal Blog
How Was The Housing Market in 2022?– Birmingham Appraisal Blog
Listen🎧
Logan Mohtashami on finding the bottom for housing inventory– HousingWire Daily Podcast
Supplement or Scale? – Real Value Podcast
The fascinating journey of John Dingeman's career path and the valuable business lessons he learned- PahRooZings: Appraisers on Purpose
Watch📺
George Dell's Things You Need 2 Know – The Webinar Handling Distressed Markets and Sales Conditions– George Dell's Valumetrics
The Appraisal Update Podcast 2.21.23 – Appraisal News & a Quick Tip– Appraiser eLearning
What You Need to Know About ROVs– Appraisal Buzz
---
So we will keep watching all that is going on in our markets. Market conditions and market analysis is crucial in valuation. If you have any questions about appraising or appraisal services please reach out to us at www.dwslaterco.com.
About The Author
Shannon Slater
Shannon is a Certified Residential Real Estate Appraiser and serves as the Vice President of the DW Slater Company. She joined David at the DW Slater Company in 2006. Shannon graduated Cum Laude from the University of North Texas with a BA degree. Prior to joining the DW Slater Company, she was an Elementary School Teacher for the Pilot Point Independent School District. Shannon is an FHA Certified Appraiser. Shannon is a designated member of the National Association of Appraisers and a member of the Association of Texas Appraisers. In her free time, Shannon enjoys spending time with her family, singing in a local church choir, and tandem cycling with her husband.