February Newsletter-Hay, Cold, & Valentines
Posted On February 21, 2022
"February is the border between winter and spring." ― Terri Guillemets
As we near the end of the shortest month of the year, we hope that February has been a good month for you. We had a bit of PTSD this past week, as we had another winter storm hit our area last week. If you recall, last year is when Texas experienced the tragic winter storm and the power grid failed and 246 lost their lives. Thankfully, last week's storm was milder and the power grid stronger. The weather here varies greatly. As I type this, I just received a notification of Severe Thunderstorm warning in my county.
You are not here for the weather but the housing market! The markets are still very strong with YoY price appreciation up +26.5% in Denton County, +25.1% in Collin County, +16.6% in Dallas County and +23.4% in Tarrant County. Volume is down for all four counties which is typical for January. When you look at the chart below, you can see that January is typically the lowest volume month. Supply is very low with the last two months supplies at less than a month. New construction is trying to increase the supply as DFW ranks the largest home building market in the nation as Single Family builds are up 28% in 2021. Homes are selling at or above list price.
Some of the current headwinds are inflation- DFW inflation rose to 7.8%. Mortgage rates are rising at much faster rate than they declined. This chart from Len Keifer depicts this well.
US 30-year mortgage rate retracing its descent from recent years

but unlike the gradual slope down from 2019-21 rocketing higher in 2022 pic.twitter.com/mOzypHAod9

— 📈 Len Kiefer 📊 (@lenkiefer) February 17, 2022
DFW is losing its affordability as prices have increased at a rate higher than wage growth. The Home Price Index is up 23.55% from 2020.
Here are the interactive charts for our markets:
Median Sales Price
Days On Market
Months of Supply
Percent of Original Price
Homes are selling at or above list price.
Showings Per Listing
This new metric and depicts that the number of showings per listing increased last month.
Volume
---
Appraiser's Corner
Check out this month's information just for real estate appraisers. If you have information that you think would be good here, please let us know.
Webinars
George Dell continues with his free monthly webinars. We hope that you were able to be a part of this month's webinar with Joan Trice. If not, you can watch the webinar here.
The free webinar for March is with Scott Reuter, Single-Family Chief Appraiser at Freddie Mac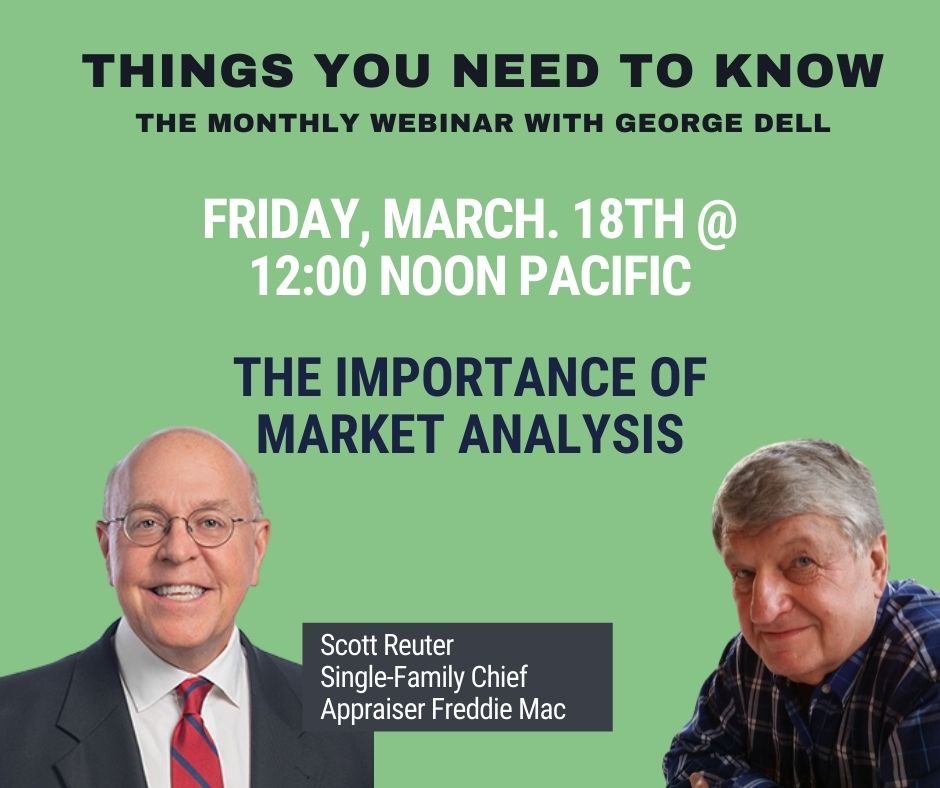 You can sign up for the webinar here.
Surveys
There is a lot of discussion right now about the desktop appraisals that will go into effect in April for FNMA. It is important that appraisers let the industry know our thoughts about these products. Here are a few that I am aware of. If you know of others let me know.
Working RE: Desktop and Hybrid Appraisal Survey (surveymonkey.com)
Bradford Technologies: New GSE Desktop Appraisal Survey (surveymonkey.com)
What did I miss? What is happening in your market? We will continue to watch the markets and provide monthly updates. Did you have a nice Valentine's Day? We helped with a youth fundraiser and had a wonderful time. Let us know how we can provide appraisal services and information for you!
About The Author
Shannon Slater
Shannon is a Certified Residential Real Estate Appraiser and serves as the Vice President of the DW Slater Company. She joined David at the DW Slater Company in 2006. Shannon graduated Cum Laude from the University of North Texas with a BA degree. Prior to joining the DW Slater Company, she was an Elementary School Teacher for the Pilot Point Independent School District. Shannon is an FHA Certified Appraiser. Shannon is a designated member of the National Association of Appraisers and a member of the Association of Texas Appraisers. In her free time, Shannon enjoys spending time with her family, singing in a local church choir, and tandem cycling with her husband.